Founded on the southwest coast of India, Udupi, Global Delight was started in 2007. With our perfect blend of professionals, we have created leading edge, award-winning cross platform audio, video and photography applications. All this has made Global Delight the home of some of the most creative and innovative apps that are being used by over 30 million consumers globally.
Meet our team

---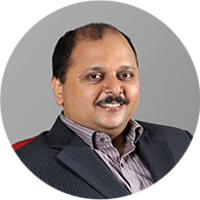 'Dream big, achieve big' is Rohith Bhat's mantra. He founded Global Delight and is responsible for where it is today. Fond of movies, emerging technologies and gadgets, Rohith also loves traveling and exploring new places.
M. Ramachandra Acharya,
CTO
An ex-professor, patent holder in browser technologies, violin maestro, and a coder at heart - Ram Acharya is all this and more. As the Chief Technological Officer, he provides immense technical direction and guidance.
Purushotham Bhat
Director
An experienced industry veteran with exposure to diverse fields of Engineering, manufacturing, software development and administration. An engineering graduate from KREC Surathkal.
Arul Vaz
Senior VP Business Development and Marketing
Passionate about making technology connect with people, Arul brings in extensive experience in digital, telecom, consulting & content.Besides, his love for sailing, Arul loves music and is part of a music band.
Vivek Manghnani
Product Director
Vehemently passionate about creating digital experiences, Vivek drives product with cutting edge data analytics and deep strategy. At Global Delight, his multifaceted skills help monitor and drive our creative ideas past the finish line. A movie buff, sound-engineer and an off the beaten-path explorer, Viveks passion for digital have had him worked across a spectrum of tech start-ups from gaming, ad tech to social networking.
Dean Gonsalves
Senior Vice President - Product
Dean is a digital savant in love with the analogue. In innovation, art and magic, but mostly through design, he explores today's collective digital struggle to find focus in a world of perpetual distraction. 20 years of experience in Branding, UX Strategy & Design has helped Dean digitally transform a multitude of global brands & start-ups, winning over 50 national & international awards. At Global Delight, he heads product strategy & design, mentoring the team in all aspects - from Intelligent Design to Human-Centered strategies
Pradeep Kumar Udupi
Senior Vice President - Engineering
Astronomy, Physics, Philosophy, Ontology and Technology are just some of the passions of this cerebral engineer. A graduate in engineering, Pradeep has extensive experience in Apple technology with nearly 20 years on the Mac and 10+ years of iOS. He has worked on one of the biggest open source project, the Netscape Navigator. Pradeep brings this extensive experience to the team along with some hands-on stealth to the engineering of our products
Adarsh

Director - Technology

Aneesh Achar

Test Lead

Anusha Shenoy

Test Engineer

Aqib Nazir Banday

Software Engineer

Aruna M

Principal Architect

Ashish A Prabhu

Test Engineer

Ashwin Bhat

Test Manager

Avinash

Web Developer

Chethana Bhat CH

Software Engineer

Darshan

Software Engineer

Deepa Pai

Senior Software Architect

Dinesh Naik

Lead UX Designer

Dinesha

Senior Software Engineer

Gleney Supreth Saldanha

Customer Support Executive

Govind Krishna Sharma

Lead UX Designer

Jayaprakash G

Lead Graphic Designer

Joseph Bibin T A

Marketing Manager

Karthik Nayak

Test Engineer

Laxmi

Data Analyst

Madhusudan N V

Graphic Designer

Megha B

Software Engineer

Mukesh Kumar

Software Engineer

Nabha Kamath

Software Engineer

Phaniraj U V

Trainee Software Engineer

Pradeep R

Senior Test Engineer

Prasad A Durgakeri

Marketing Associate

Prateek D Nayak

Customer Support Executive

Rachita Raviraj

Web Developer

Rakesh R Anchan

Manager - Digital Marketing

Ranjitha Prabhu

Manager - Web Services and Customer Experiences

Rohith J Nayak

Software Engineer

Saloni Sinha

Graphic Designer

Sharmada B

Senior Software Engineer

Shaswath J Bhat

Assistant Manager - Finance and Operations

Shreyas S

Software Engineer

Shrinivasa P

Senior HR Executive

Srinivasa Prabhu

Principal Architect

Shubha R Poojary

Senior HR Executive

Sunil Rao

Customer Support Executive

Suraj M

Trainee Software Engineer

Vipin Kumar Mishra

Assistant Manager - Product Marketing

Vishnu B S

Trainee Software Engineer

Veena Kalkur K

Customer Support Executive

Vignesh Shenoy

Senior Accounts Executive

Vishwas Sadhwani P

Creative Designer

This could be you!

Send us your resume
We use cookies to ensure that we give you the best experience on our website. If you continue, we will assume that you agree to our
privacy policy
&
cookie policy.
close